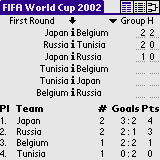 Worldcup is a tool to keep up-to-date with the results and tables of the upcoming FIFA World Cup 2010 in South Africa. It holds the complete fixture with all dates of the tournament and will compute all matches of the final round for you. The 2002 and 2006 versions can still be downloaded - see left column (note however that the applications can't be installed in parallel!)
Features:
All matches with additional information on time and location.
Time zone can be set manually.
Matches in the Final Round (Round of 16 and later) will be computed automatically from the group tables or results of matches before.
Additional information about all teams (includes all players with shirt numbers).
List of all matches by date.
Enter single matches to date book.
Along with the actual program comes the DB file with all relevant fixture and team data.

Because the Japanese version uses 2-byte-strings, the format of the DB file has changed incompatible with version 1.3; if you install this version, please don't forget to also install the PDB file from the archive. The DB files downloadble below are also compiled for version 1.3.

The download includes the application in several language versions, data base file (only english and german version) and source code.

Stefan Runge (thank you very much, Stefan).