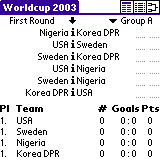 Worldcup 2003 is a tool to keep up-to-date with the results and tables of the FIFA Women's World Cup 2003 in the USA. It holds the complete fixture with all dates of the tournament and will compute all matches of the final round for you.

Features:
All matches with additional information on time and location.
Time zone can be set manually.
Matches in the Final Round will be computed automatically from the group tables or results of matches before.
Additional information about all teams (includes all players with shirt numbers).
List of all matches by date.
Enter single matches to date book.
Along with the actual program comes the DB file with all relevant fixture and team data.
The program by now exist in the following versions:
If you are willing to do another translation (especially of the data file), you are welcome. Please have a look at the README.txt file inside the ZIP archive.